Linda Lindenau Sailing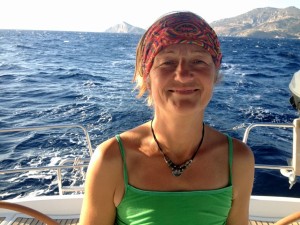 Would you like to sail with other women and a female skipper? Have you sailed with experienced men who takes care of it all and leaves you in the kitchen or just sunbathing? Would you like to take a more active part in the sailing, navigation, safety precautions, weather considerations, all the details that together makes a safe and enjoyable sailing trip? You are welcome to sail with me and other women. I have a 47 feet Oceanis, with accomodation for six guests. Click on Mina båtar (My boats) and see pictures of the boat Peristera.
Mainly Swedish women have taken part of my courses so far. But I dream of having all nationalities onboard. It would be such a marvellous experience, to sail around, talk, and get to know women from different cultures. If you come to sail with me, bear in mind that swedes are quite good at english. We study english in school, and when we travel, nobody speaks swedish so we get quite a lot of exercise.
Hope we will meet on one of my boats, or wave to each other at sea!
If you want to see more, visit my Youtubechannel LindaLindenauSailing with instructional videos, interviews with sailing women, and my reflections of sailing issues. In most of them, I speak English. If not, there is English subtitles.
Where is Peristera now? Look here:
On Instagram I write in English. Welcome to follow!
Circumnavigation
Find out about my circumnavigation with 250 women here: