For several years I have arranged sailing courses for women in Sweden and in Greece. The waters around Rhodes are perfect for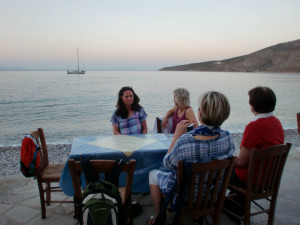 sailing and visiting great places. From Rhodes the islands of Simi, Nisiros, Tilos and Khalki are close by. We will sail to where the wind takes us and the group wants to go, but if someone is afraid, of course we ajust to that. In the afternoon, we'll moor in some nice and picturesqe port with a restaurant. After dinner, we spend the evening as we please, walking, talking, enjoying harbour life.
The years 2016-18 I will go on a long journey with my boat (see Sailing journey 2016-18) and you can join me on that trip. When I come back I will continue doing sailing courses for women in Greece. Check my website, or send me your email and I'll put you on my maillist!